To mark the anniversary of our first year in full operation, we are sharing our first ever CDFI Friendly Bloomington (CFB) annual report. Thanks to all our community partners, clients, and engaged CDFIs for your guidance and support as we develop this new model to expand the benefits of community development financing to greater Bloomington and the Indiana Uplands region.
Looking Back: Laying the Foundation for CDFI Friendly Bloomington
In 2017, community leaders in Bloomington identified significant, unmet need for flexible, affordable financing for a wide range of community purposes. In particular, the greater Bloomington area needed new, more creative capital sources for affordable housing, small businesses, and other community-focused projects. Mayor John Hamilton, who had prior experience helming a community development financial institution (CDFI), suggested that the growing CDFI industry could address these needs. CDFIs are private financial institutions working for public purposes, using flexible, affordable financing to foster inclusive, equitable, and sustainable prosperity. Mayor Hamilton and Tina Peterson, President and CEO of the Community Foundation of Bloomington & Monroe County, formed a working group of community leaders to explore possibilities for CDFIs to help address these local issues.
The Bloomington Urban Enterprise Association, a private economic development nonprofit, and the Community Foundation of Bloomington & Monroe County (the Community Foundation) each pledged funds to support the working group's development of a financing solution based around CDFIs. The working group hired Mark Pinsky and Adina Abramowitz, recognized CDFI industry experts, to guide the effort. However, stakeholder engagement with both Bloomington residents and the CDFI industry quickly revealed that neither establishing a new CDFI, nor recruiting an existing CDFI to open a satellite office in Bloomington, were financially viable or likely to confront the full spectrum of local financing needs.
From this work sprung the genesis of the "CDFI Friendly" concept – that Bloomington could organize its resources to proactively encourage and incent CDFIs across the broader geography to finance opportunities in Bloomington. This idea resonated as an innovative solution to access the unparalleled expertise and substantial resources of the CDFI industry without incurring the financial implications, learning curve, or limited scope of utilizing a single lending entity. Stakeholder engagement and market research found high interest from both the Bloomington community and industry experts in the "CDFI Friendly" model. Executing the CDFI Friendly concept in Bloomington became the focus of the working group, and in February 2018, Mayor Hamilton announced that Bloomington was the prototypical "CDFI Friendly" city.
Building a New Organization
The "CDFI Friendly Bloomington" concept evolved to include a few essential components beyond those included in the initial evaluation and planning process. First, an independent operating entity with a local governing body had to be created. Second, a credit enhancement fund needed to be capitalized. This capital fund would be operated by CFB to facilitate CDFI financing through participation Finally, the entity required a dedicated employee independent of local government to serve as a liaison between local demand and CDFI capital supply.
In December 2018, after much collaboration and hard work, CDFI Friendly Bloomington, Inc. was launched. The founding board of directors established a private nonprofit corporation, with generous grants for operating costs from the Community Foundation, the Bloomington Urban Enterprise Association, and charitable foundations associated with First Financial Bank, Old National Bank, PNC Bank, and Wells Fargo. The board of directors applied for nonprofit status, and the IRS officially designated CDFI Friendly Bloomington a 501(c)(3) tax-exempt organization in September 2019.
In November 2019, CDFI Friendly Bloomington secured our first competitive grant award, from Regional Opportunity Initiatives, Inc., a regional economic development nonprofit focusing on the Indiana Uplands, an 11-county region in southwest central Indiana. CDFI Friendly Bloomington was awarded $100,000 in seed funding for operations from ROI as part of their Ready Communities grant program. This award also allowed us to expand services to the entire region, adding 12 counties to our scope of activity. We have also since been awarded a generous operations grant from the German American Bank Foundation. Finally, Bank of America announced it will lend up to $10 million at extremely low-cost to CDFIs that finance regional deals alongside CDFI Friendly Bloomington.
To help incent CDFIs to work in our service area, CFB raised funds to create a dedicated credit enhancement fund, CFB Capital, operated by CDFI Friendly Bloomington. The Bloomington Urban Enterprise Association and the Bloomington Redevelopment Commission each made $1 million capital grant commitments to capitalize this fund. Local and regional banking partners have committed $2 million in low-interest debt financing to further grow CFB Capital. These investors include First Financial Bank, German American Bank, and Old National Bank. German American Bank has further agreed to serve as the lead bank to administrate this debt financing, reducing the administrative burden of utilizing these resources.
In a crucial final step toward becoming fully operational, CDFI Friendly Bloomington launched a nationwide search for an executive director in April 2019. In July 2019, the board of directors selected Brian Payne to serve as the inaugural executive director of CDFI Friendly Bloomington. Payne began officially in September 2019, marking the beginning of CDFI Friendly Bloomington's first year as a staffed organization. The Community Foundation offered financial and administrative support as a fiscal sponsor and continues to provide crucial resources and administrative support for our startup organization.
Highlights of Our First Year in Operation
Kinser Flats: The First Investment Facilitated by CDFI Friendly Bloomington
In October 2019, Cinnaire, a large regional CDFI based in Michigan, joined Centerstone, Old National Bank, the City of Bloomington, Bloomington Housing Authority, and the Indiana Housing and Community Development Authority to break ground on Kinser Flats, a new supportive, affordable housing facility. This 50-unit complex will provide affordable housing for homeless families and individuals with substance abuse disorders or co-occurring substance abuse and mental health disorders. Cinnaire, brought into the project by CDFI Friendly Bloomington, provided a pre-construction loan of nearly $500,000, and a $9.5 million Low Income Housing Tax Credits investment to support the development.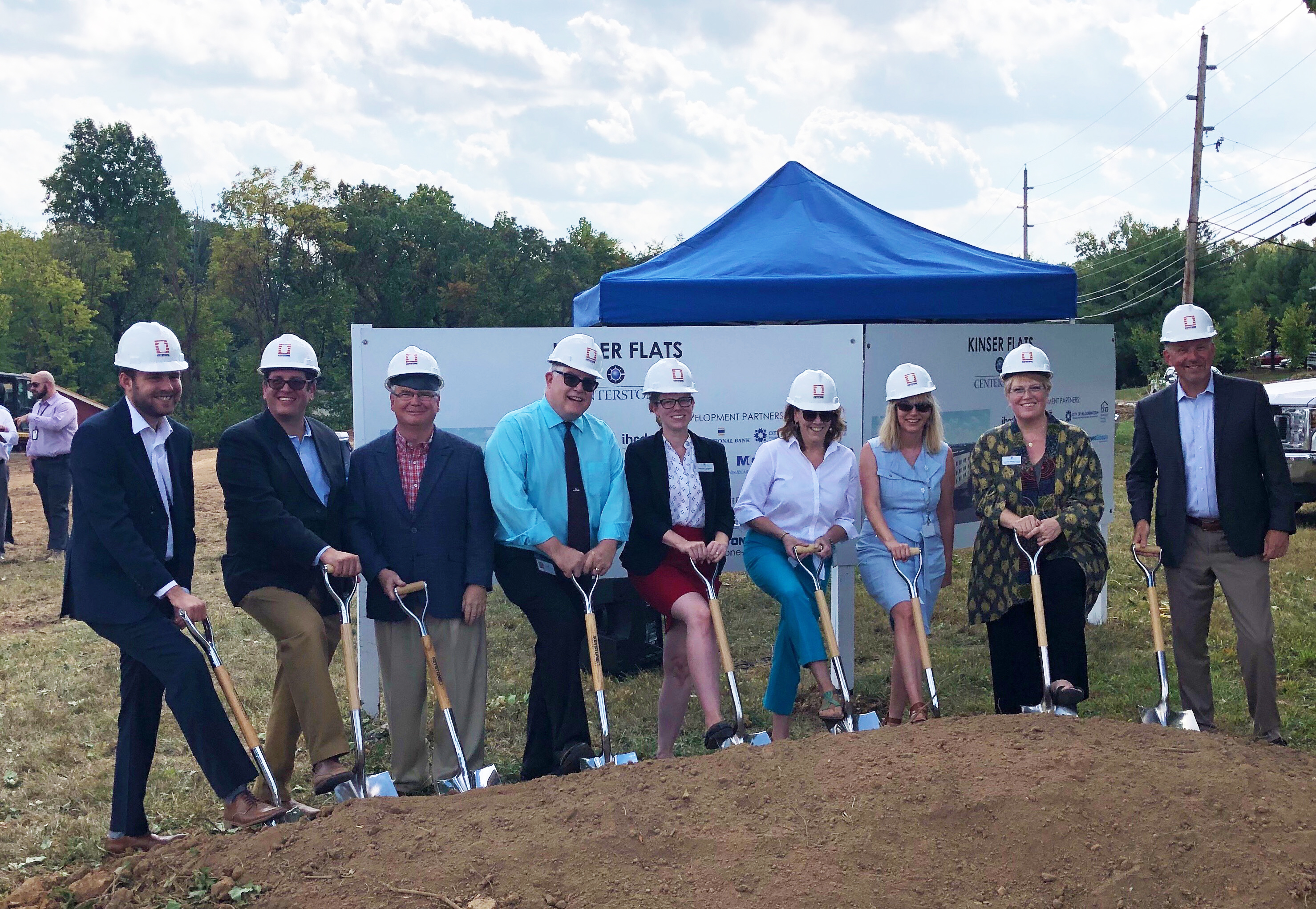 Centerstone, a leading behavioral health services provider in Indiana, will own and operate the facility. The building design includes space for onsite recovery-focused supportive services for tenants to be provided by Centerstone and other community partners. Kinser Flats will operate as a low-barrier facility guided by the Housing First, harm-reduction approach, which prioritizes housing as the foundation for life improvement. Kinser Flats will provide families stable, affordable housing while individuals receive treatment (rather than upon completion), significantly increasing their chances of recovery.
CDFI Friendly Bloomington Supports Businesses Hurt by COVID-19
CDFI Friendly Bloomington played an integral role in Bloomington's response to the COVID-19 pandemic, specifically its devastating effects on local small businesses and nonprofits. Executive director Brian Payne was appointed to the City's Economic Stabilization & Recovery task force and serves as Administrator of the City's COVID-19 Rapid Response Fund. CFB helped analyze the lending landscape, identify gaps affecting Bloomington borrowers, and applied CDFI industry and organizational expertise to create a rapidly administrable loan product that targets Bloomington's specific needs during the pandemic.
The Rapid Response Fund loan program offers bridge loans with short-term repayment deferral, concessionary interest rates, and simple eligibility criteria. CDFI Friendly Bloomington designed the loan product, created the online application, and administered the review process. In under six months, the Rapid Response Fund loan program has processed 75+ applications, approved 59 loans, and disbursed more than $1.9 million in emergency loan funding to small businesses and nonprofits in Bloomington.
In addition, CDFI Friendly Bloomington, the City of Bloomington, and the Bloomington Chamber of Commerce held a virtual financing information session in April 2020 that drew more than 100 local entrepreneurs from community businesses. This one-stop info session convened CDFIs, local banks, local government officials, and Small Business Administration representatives to present key information and answer questions about COVID-19 resources from attendees.
CDFI Funding Helps Rehabilitate Aging Affordable Housing Facilities
CDFI Friendly Bloomington's second project closed in May 2020, facilitating Bloomington Housing Authority's renovation of the Reverend Butler and Walnut Woods affordable housing properties. Cinnaire provided $5.7 million of the project's $17.7 million total cost. This project will renovate and preserve 116 affordable units and retain 9 local jobs in Bloomington.
The Reverend Butler community was built in 1972, the Walnut Woods properties in 1982. This project will not only sustain affordable housing units for decades, but also dramatically increase the quality of life for its residents. The properties will be upgraded for long-term sustainability, and modernize every unit with new EnergyStar appliances, a washer/dryer, new kitchen fixtures, and new bathrooms. According to BHA, tenants will be relocated temporarily at no cost, and are overwhelmingly excited about the improvements.
Measured Impact: Key Performance Metrics
According to industry data from 2003-2017, CDFI Friendly Bloomington has tripled the CDFI industry's investment in Bloomington over the last fifteen years – in our first year. Greater things lie ahead for CDFI Friendly Bloomington, but this pioneering model has already demonstrated its potential and paid dividends for Bloomington residents.
CDFI Friendly Bloomington Activity (2019-Present)
Looking Ahead
CDFI Friendly Bloomington is still in its infancy – an innovative, unprecedented organizational model seeking to impact our local community and to demonstrate viability in small markets throughout the Indiana Uplands region. Our early achievements consisted of laying the foundation for our new entity: obtaining 501(c)(3) status from the IRS, hiring its first full-time staff, raising capital funds, and helping close our first CDFI-financed projects.
In our first year, we have cultivated significant growth in our project pipeline – both in terms of projects/clients utilizing CFB's services to pursue financing and technical assistance and actual applications filed for CDFI financing. As of this report, eleven CDFI Friendly Bloomington clients have filed applications for funding from CDFI partners, two of which seek to utilize CFB Capital's enhancement fund financing as well.
All this is only possible due to the support of our exceptional donors, investors, community and CDFI funding partners. We look forward to building upon these relationships as CFB continues to cultivate inclusive prosperity for the residents of Bloomington and the Indiana Uplands.